Cold Storage
NEED IT COLD? YOU'RE IN THE RIGHT PLACE.
Businesses around the world use shipping containers for cold storage either on a seasonal or permanent basis—for example, a retailer that requires additional capacity for holiday turkeys, agricultural operations that need to keep perishables fresh before transport, or food-service companies who want reliable backup systems. Of course, those are only a few of the applications and industries for cold storage. Serving Alaska, Hawaii, Washington, Oregon, Idaho, Montana, and based here in Tacoma, we offer refrigerated storage containers that are durable and convenient.

Containers are waterproof and rodent-proof, protecting your important goods from both the elements and unwanted intruders that can cause significant damage to products. And the potential savings of using a container versus building a traditional structure can be significant: Our units are food-grade, stainless steel interior, and all-electric, which can save you thousands in fuel and reduce service costs as well. Whether it's frozen or fresh, we can help hold the tempuratures you need from -30F up to 70F. To discuss the cold and refrigerated storage container options in the Tacoma area don't hesitate to call us at Mountain Container.

We have hundreds of new and used refrigerated containers in Tacoma and around the world, which means whatever you need, we've got a solution.
YOUR COLD-STORAGE NEEDS
Why You Can Trust Mountain Container
YOUR COLD-STORAGE NEEDS
Why You Can Trust Mountain Container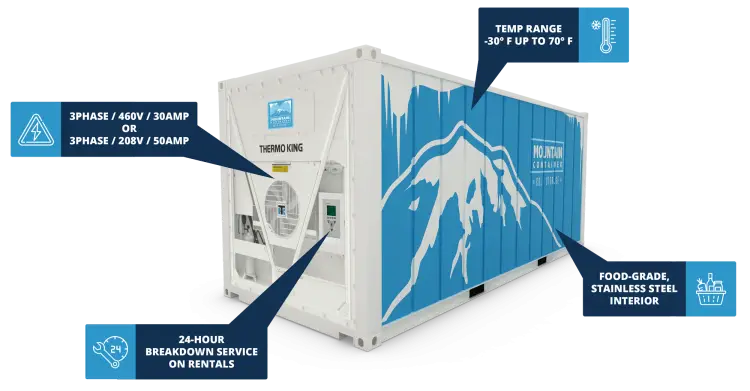 EXPERIENCE
We've been providing our clients with refrigerated containers for more than 30 years, giving us the expertise to make cold storage simple and hassle-free. No matter how unique your situation or requirements, we've likely seen something similar before—which means we'll be able to help you get up and running quickly.
SUPPORT
Whether it's a cold room for a permanent walk-in cooler or blast freezer, or a seasonal rental, our team will manage installation and provide operational support. We offer 24-hour breakdown service as well, with technicians standing by to fix any issues and minimize losses. We're here to make sure the residents of Tacoma's cold storage containers are always running.

Download our electrical requirements.
FLEXIBILITY
We offer short-term rentals, long-term leases, or purchases (with financing options), so you can choose what works best for your business. And then there are the containers themselves: One of the big advantages for any application is that they are incredibly flexible. Because of their portability, they can be rented seasonally, easily moved to different locations on a site, or used to create a permanent cold room or walk-in. And we can provide a wide variety of options and add-ons, including ramps, lighting, remote monitoring, and more.